Fusion Solutions Expands Addison, Texas Headquarters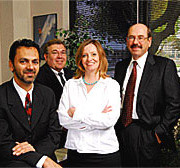 This is the second expansion in less than a year for the rapidly growing telecom staffing firm.
Dallas, TX – April 23, 2007 Fusion Solutions Incorporated, a leading provider of staffing solutions for telecom companies announced today it has signed a lease to add more space to its to Addison headquarters to accommodate its continued growth. This will be the second expansion in less than a year as the company continues to experience steady growth within existing and new clients. An aggressive marketing program launched in January, combined with its expanded sales force and the continued rebound in the telecom industry, are the key drivers behind the growth.
Fusion Solutions management team L-R Tahir Hussain-Founder and CEO, John Manukian Director of Recruiting;, Kelly Smoot Strategic Account Manager and Vic Velevis Vice President of Sales & Business Development.
"We are very focused on providing a high level of service to our clients so we continue to be a trusted partner," said Tahir Hussain, founder and CEO of Fusion Solutions. "As a company grows, scaling and maintaining exceptional service levels can be a challenge and so far we have been successful at it. We finished 2006 employing nearly 200 people, almost double the number of people we had in 2005. Based on first quarter results we expect a similar level of growth throughout this year."
Fusion Solutions is located in the Treepoint Plaza office complex located at 16901 North Dallas Parkway in Addison. Currently Fusion solutions occupies approximately 5,000 square feet. The expansion will provide up one-third more space to accommodate additional sales, recruiting and administrative personnel.
ABOUT FUSION SOLUTIONS
Fusion Solutions, Inc. is a Dallas, Texas based company that provides a comprehensive range of staffing services for the telecom industry. Their services include contract and contract-to-hire staffing, as well as client searches for full-time employees. Fusion Solutions also provides specialized solution development, integration and implementation services. The company was founded in 2002 and is one of the largest certified minority-owned telecom staffing providers in the State of Texas. For more information about the services they provide, visit www.fusionsolutionsinc.com.
Media Contact
Marina Griffin
214.432-7491
marina@consulttus.com