Inc. Magazine Ranks Fusion Solutions 5th in the 2007 Inc. 500 List of America's Fastest Growing Privately Held Companies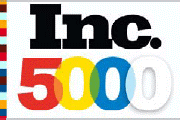 Top ranking company in Texas and Dallas/Fort Worth
Dallas, TX – August 24, 2007 – Fusion Solutions Inc., a leading provider of staffing solutions for telecom companies, announced today that it has made Inc. Magazine's 2007 Inc. 500 list of the fastest growing privately held companies in America. It is ranked 5th. The Inc. 500 has been sponsored by Inc. Magazine for twenty-years and is one of the top awards American companies pursue every year.
This is the first time Fusion Solutions has made the Inc. 500 list. The company has achieved a 9301% sales growth rate in the three-year period 2003 through 2006, which is the measurement period for the 2007 awards. Fusion Solutions has become a trusted source for highly experienced telecom consultants by a number of top global telecom companies nationwide. www.fusionsolutionsinc.com.
"I am very pleased that we made the Inc. 500 and am excited about ranking so high our first time," said Tahir Hussain, founder and CEO of Fusion Solutions.
"However, the credit goes to the incredible group of dedicated employees we have, our valued clients who continue to expand their business with us and our great partners."
Overall the telecom market continues to grow. As companies need highly skilled people they are turning to Fusion Solutions because it specializes in telecom and its people are all former telecom industry veterans. The Fusion Solutions team has extensive experience in telecom technologies, applications, implementations and recruiting.
BOUT FUSION SOLUTIONS
Fusion Solutions, Inc. is a Dallas, Texas based company that provides a comprehensive range of staffing services for the telecom industry. Their services include contract and contract-to-hire staffing, as well as client searches for fulltime employees. Fusion Solutions also provides specialized solution development, integration and implementation services. The company was founded in 2002 and is one of the largest certified minority-owned telecom staffingproviders in the State of Texas. For more information about the services they provide, visit www.fusionsolutionsinc.com.